METRO Digital Preservation Workshop Series Helps Libraries Tackle the Digital Preservation Crisis
Preservation of digital resources is a concern for any institution charged with stewarding born-digital and converted digital resources. To help our member libraries address this impending preservation crisis, METRO is collaborating with Lyrasis, BCR, and Nylink to offer a three-workshop series on digital preservation.
The series, sponsored in part by ExLibris, brings nationally recognized digital preservation experts to METRO to address digital preservation issues and the tools and strategies necessary for policy and plan implementation. Take advantage of discount rates if you register for all three sessions ($150 off), or sign up 2 out of three. Note: the first workshop is recommended as a pre-requisite for the second and/or third workshops. Register for the entire series here: http://bit.ly/a5f63.
Workshops include:
November 4, 2009
Assuring Long Term Access to Digital Collections:
An Introduction to Digital Preservation
Instructors: Tom Clareson (Lyrasis) and Liz Bishoff (BCR)
Complete workshop details and registration: http://bit.ly/16buza.
December 16, 2009
Risk Assessment for Digital Collections
Instructors: Tom Clareson (Lyrasis) and Liz Bishoff (BCR)
Complete workshop details and registration: http://bit.ly/vyB07.
January 28, 2010
Digital Preservation Tools, Systems, and Services
Instructor: Tyler Walters (Georgia Institute of Technology)
Complete workshop details and registration: http://bit.ly/3TyDqm.
Resources: Making Sense of the Google Books Settlement
On September 25, Judge Denny Chin (United States District Court for the Southern District of New York) indefinitely postponed the scheduled October 7 hearing on the class action settlement between Google, The Authors Guild, and the Association of American Publishers. The postponement came shortly after a deadline to file briefs in opposition or support of the settlement -- over 400 briefs were filed in opposition by diverse constituents ranging from authors to non-profit organizations to libraries. And while the postponement means Google and the Plaintiffs need to take the settlement back to the drawing board, there's still plenty for librarians to discuss about the implications of the settlement and what libraries' roles might be in shaping a settlement that is fair, ensures access to the digitized books, and addresses the concerns raised by the settlement.
It's a complex issue that many of us are just now starting to wrap our heads around. Fortunately, there are several ways to get up to speed on this issue. Here are a few:
Collaboration Brings Shelf2Life Digitization to METRO Members
METRO is pleased to announce a new collaboration with BCR to provide a new service to help members digitize books in their collections. Shelf2Life is an exciting new opportunity for METRO member libraries to make their book collections widely available in digital format without the expense of equipment and significant staff time.
Shelf2Life is a digitization initiative of BCR, a nonprofit organization whose mission is to bring libraries together for greater success by expanding their knowledge, reach and power. The program is designed to minimize cost while providing electronic access to legacy collections. There is no cost to participate in Shelf2Life, which can:
Help you digitize your pre-1923 U.S. book collections creating print-on-demand for consumers and eBooks for library users;
Make your books readily available in a print-on-demand format whereby your institution receives royalties for every copy purchased; and
Greatly increase the visibility of and access to your collection.
To learn more, visit the Shelf2Life web page and view the video demo or contact Jason Kucsma, METRO's Emerging Technologies Manager.
Digital Collection Spotlight:
NYU Medical Center: Images from the Archives

Each month we take a moment to share digital collections created by METRO members. Recommend a collection for the spotlight by emailing jkucsma@metro.org.
With all the discussion on healthcare in the US, it seems like a good time to take a look back at the NYU Medical Center archives. This images database contains photographs and illustrations from the collections of the NYU Medical Center Archives. The images relate to the School of Medicine, NYU Medical Center, Bellevue Hospital and Bellevue Hospital Medical College, among others. These images, many from the 19th century, are of individuals, groups, buildings, events and activities such as surgeries. Digitization is ongoing, and new images are added regularly.
View the collection here:http://bit.ly/2Gffv
View more digital collections at digitalMETRO, an online directory of digital collections created and maintained by METRO libraries.
TextALibrarian Offers Discount to METRO Members for SMS/Text Reference Services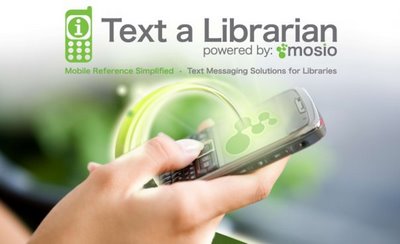 Through a recent agreement with Mosio, the folks behind the Text a Librarian Service, METRO members are now eligible for a discount on new services. Text a Librarian will waive the one-time set-up fee ($199) for all METRO members. Text A Librarian is an easy, organized and efficient text message reference service that enables libraries to engage with patrons on their mobile devices. There is no hardware to install, no software to download and no phone required.
To take advantage of this offer, contact Text A Librarian and ask for the METRO member discount. 
New Report from Ithaka on Managing Print Collections in the Wake of Digitization
On September 28th, Ithaka released a report on where and when libraries might decide to jettison or retain print journals in the wake of mass digitization initiatives. From the release:
The large-scale digitization of print journal collections has led to most access needs being met via digital surrogates. Numerous libraries would therefore like to reassign the space occupied by print collections towards higher-value uses. "What to Withdraw: Print Collections Management in the Wake of Digitization" analyzes which types of journals can be withdrawn responsibly today and how that set of materials can be expanded to allow libraries the maximum possible flexibility and savings in the future.
Read the full report here: http://www.ithaka.org/ithaka-s-r/research/what-to-withdraw
Register Now for Free: METRO Annual Meeting
Join us on October 29, 2009 (2-5pm) at SUNY College of Optometry to commemorate METRO's 45th Anniversary at METRO's Annual Meeting. Our keynote speaker for the afternoon will be John Blyberg, Assistant Director for Innovation and User Experience at Darien Public Library in Connecticut, speaking on "Getting Out of the Weeds: Understanding and Managing an Ecology of Information." The event is open to all staff of METRO member libraries. Tours of the Harold Kohn Vision Science Library will take place before the meeting. Register for free here: http://bit.ly/2aBRcw.
Digitization and Emerging Tech Workshops and Events
October:
Add these and other related events around NY and the world to your Google Calendar by subscribing to the METRO Calendar: http://bit.ly/metrocalendar.
The complete Fall METRO schedule is now available online here: http://bit.ly/METRO_Fall2009
Newsfeed 
The best of September's Tweets from the tweetMETRO feed
(http://twitter.com/tweetMETRO):
Chronicle tackles "next gen" catalog software in libraries - references the online Sears catalog? Weird. http://bit.ly/1BhWz3
Digital Preservation strategies and tools in an affordable 3-part workshop series http://bit.ly/10fHHi
Did you know? 4.0 http://bit.ly/27JgJH
Nominate your favorite librarian for ALA/NYTimes "I Love My Librarian" award http://bit.ly/10THpk
DoJ Tells Google to take its settlement back to the drawing board. http://bit.ly/3Wixt
Jewish Theological Seminary Library Open House October 6th, 4:30-6 pm Join JTS Library staff on Tuesday, on the... http://bit.ly/9MDzr
Sneak Peek: The METRO Digital Preservation Workshop Series http://bit.ly/17Ogsx
Free webinar from CCC on Google Books Settlement next week (via Radical Reference) http://bit.ly/xIxjx
We're back this week with another featured digital collection: Jewish People's University of the Air http://bit.ly/16N4mD
Who should control the virtual library? Talk of the Nation tackles Google Books (via @carolinefuchs) http://bit.ly/XoJ3X
Breeding's Open Letter to the Koha Community. Interesting read. http://bit.ly/FKsHg
METRO's Fall 2009 Catalog is now online at http://bit.ly/METRO_Fall2009 or via our Google Calendar: http://bit.ly/u5e93
28 people will leave METRO this afternoon with the skills to build digital collections with @omeka. TGIF!
Spend some time today with the 911 Digital Archive http://911digitalarchive.org/